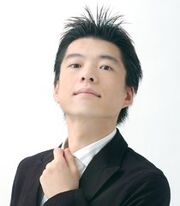 Yoshihisa Kawahara (born June 22, 1976) is a Japanese Voice actor who voiced Neo Ziperator in Bakugan: Gundalian Invaders.
Other Notable Roles
Largo (Fairy Musketeers)
Mingaku (Ghost Slayers Ayashi)
Taiki Uchida (Bakuman)
Ken Itou (Nyan Koi)
Tetsuto Kinugasa (Suzuka)
Bobby (Binbogami ga!)
Rafael (Yu-Gi-Oh! Duel Monsters)
Mad Dog (Yu-Gi-Oh! GX)
Rudolph Heitmann (Yu-Gi-Oh! 5D'S)
Captain Marvel (Batman: The Brave and the Bold)
Volga (Hyrule Warriors)
Ad blocker interference detected!
Wikia is a free-to-use site that makes money from advertising. We have a modified experience for viewers using ad blockers

Wikia is not accessible if you've made further modifications. Remove the custom ad blocker rule(s) and the page will load as expected.