Today's blog will tackle two ludicrous instances that happened this week:
Shopro copied Bakugan Wikia
Here's something interesting that dear Rhivana found out with screenshots courtesy of Buzzek, the Admin of Polish Bakugan Wikia (Yes dude. If you take info somewhere, make sure you credit the source right? :P )
Shopro, studio that is in charge of BakuTech! Bakugan's five minute cheapskate yet epic animation, is found GUILTY of copying Bakugan Wikia's former description for Gren Dragaon and Zero Munikis.
Here's Shopro's official TakuBech Website: http://www.shopro.co.jp/tv/baku-tech/
Now for da stuff.
Check out the Engrish description for Gren Dragaon in the Episode 9 screenshot.
...and then Gren Dragaon's page History: http://bakugan.wikia.com/index.php?title=Gren_Dragaon&action=historysubmit&diff=569765&oldid=569750
As you can see, that translation was made by your's truly and was duly rewritten by Rhivana sometime after.
Check out Zero Munikis' screenshot.
...and the Page History: http://bakugan.wikia.com/index.php?title=Zero_Munikis&action=historysubmit&diff=566441&oldid=566440
That one, on the other hand, was made by Rhivana and corrected later on.

Since Shopro is found out to be snooping our pages, let's all put a subliminal message on Rise Dragaon and Hollow Munikis Page: "SHOPRO... LOVE THE FOREIGN FANS!! REGULAR RELEASE FOR AQUOS GIF GINRYU!!!" [
[シオプロ。。。外国人のだいすきさんたち恋する!! 蒼(ギフ)ジンリュウのレギユラーリリスのため !!]
or better yet, bring TakuBechs outside Japan! :P (Naw XDD)
Bwahahaha ~ XDDD
Now on to the other business.
TV SETOUCHI IS GONE!!!!!!!!!!!!!!!!!!!!!!!!!!!
But TV Tokyo is BAAAAAAAAAAACK!!! XDD
-ahem -
Karashina, the sexy bishounen ninja shows off his insulting arts on the members of the Dojo. What he said to Tatsuma may be quite explicit so when I made the summary for the episode, I wrote it in a discrete manner as I could. XDD
On the other hand, he told Harubaru being overconfident and remembers badly (short term memory) and Harubaru just said "Dake?" (So what?) and Karashina puts up a sexy WTF face in Japanese TV. XD For some reason, it affected Raichi instead.
In the manga, Karashina also mentioned Honoo Moetaro being 31 years old and getting dumped 31 times by women. Of course, Honoo went WRRRRRRRRRRRRRRRRRYYYYYYYY!!
Their brawl was so intense (OMG FINALLY! ACTION AFTER DA CHIT-CHAT!! XD) that one episode is not enough to contain it so it will continue in the next episode whose title I mistranslated on purpose the first time around (people present in the chat after BakuTech's airing know the reason why I did so).
As for the other two that aren't as attractive ~ Tohga apologizes again for his LOL WUT brute force and Jinza should talk or else I'll silence him forever.
For those who wanna watch this week's epic lulz, here's the vid courtesy of Nintendocan aka: MICA LAUREL :D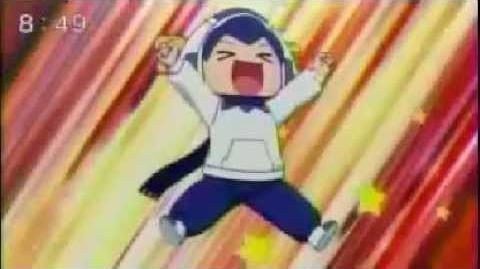 As promised, I'll post my Shadow Sanjushi Blogview soon. :3
Toodles! XD
Ad blocker interference detected!
Wikia is a free-to-use site that makes money from advertising. We have a modified experience for viewers using ad blockers

Wikia is not accessible if you've made further modifications. Remove the custom ad blocker rule(s) and the page will load as expected.