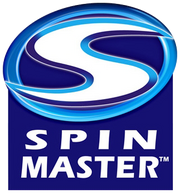 Spin Master Ltd. is a children's entertainment company based in Toronto, Canada.
The origins of the company began in 1994, when the three company founders came out with a product called The Earth Buddy. It was originally incorporated at that time as Seiger Marketing, Inc. In 1995, the company adopted the name of Spin Master Toys. In 1996, the company released the Air Hogs line of air-pressured flying toys based on the design of two British inventors.
Over the next decade Spin Master diversified its offering beyond traditional toys. The company dropped "Toys" from its name and adopted its current name in 2004 to reflect the diversity of its products.
Today, Spin Master has over six hundred employees and is also known for its very popular Bakugan, in the United States and in Toronto. In addition to its global headquarters in Toronto, the company has offices in London, Paris, Hong Kong, Los Angeles, California, and Bentonville, Arkansas.
In 2013, they launched a brick-building system called Ionix, which are manufactured for products under the Tenkai Knights and How to Train Your Dragon franchises respectively.
Ad blocker interference detected!
Wikia is a free-to-use site that makes money from advertising. We have a modified experience for viewers using ad blockers

Wikia is not accessible if you've made further modifications. Remove the custom ad blocker rule(s) and the page will load as expected.