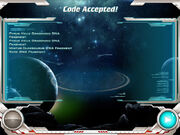 A Rare DNA Fragment was an item in Bakugan Dimensions. It is unknown what purpose it serves in the game. All Bakugan DNA codes unlock these. One of the administrators on the official Bakugan community website, Lord Darkus said that "for now just ignore the extra DNA Fragments when obtaining the code". You can look at your Rare DNA Fragment by clicking on your "BookBag" icon.
Ad blocker interference detected!
Wikia is a free-to-use site that makes money from advertising. We have a modified experience for viewers using ad blockers

Wikia is not accessible if you've made further modifications. Remove the custom ad blocker rule(s) and the page will load as expected.