Pythantus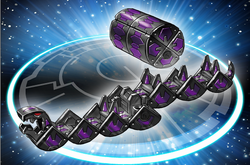 Pythantus is a python-like Bakugan Trap that looks similar to Serpenoid in Bakugan form. It is drum-shaped in Trap form.
Information
Description
A slithering creature, Pythantus can burrow into the ground to sneak up on his enemies. He has thorns running along his body for defense and a venomous bite to destroy his adversaries.
Game
It has so far seen in all attributes except Haos.
Trivia
In Trap form, it looks similar to both Hexados and Legionoid.
Ad blocker interference detected!
Wikia is a free-to-use site that makes money from advertising. We have a modified experience for viewers using ad blockers

Wikia is not accessible if you've made further modifications. Remove the custom ad blocker rule(s) and the page will load as expected.