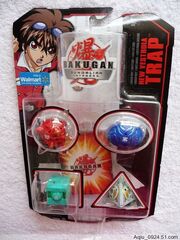 New Vestroia Trap Packs are Bakugan: Gundalian Invaders packs containing four New Vestroia Traps. These traps do not have DNA Codes, unlike most other Gundalian Invaders toys.
List of New Vestroia Trap Pack Traps
Gallery
Ad blocker interference detected!
Wikia is a free-to-use site that makes money from advertising. We have a modified experience for viewers using ad blockers

Wikia is not accessible if you've made further modifications. Remove the custom ad blocker rule(s) and the page will load as expected.