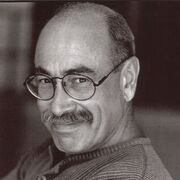 John Stocker
(Born August 13, 1947) is a
Canadian
animated Voice actor. His career began in the 1970s, when he started
voice acting
. He is
Bailey Stocker
's father, and, like his daughter, he has voiced characters in the
Bakugan Anime series
.
Voices
Other Notable Roles
Mayor Swifty (Sidekick)
Kutlass (Donkey Kong Country)
Thompson (The Adventures of Tintin)
Rocky (Miss Spider's Sunny Patch Friends)
Mr. Harry (The Cramp Twins)
Rabbit (Garfield and Friends)
Father Time (Cyberchase)
Ankylo,Terrible Dactyl (Dinosaucers)
Dulok Scout,Hoom,Widdle (Star Wars: Ewoks)
Vlix (Star Wars: Droids)
Longarm (C.O.P.S.)
Toad, Koopa Troopa, Mouser (The Super Mario Bros. Super Show!)
Gluckuck (The Neverending Story)
Leech (X-Men)
Zetes/Polemius/2nd Soldier/2nd Guard (Mythic Warriors: Guardians of the Legend)
Zookeeper, Evan, Robot (The Amazing Spiez!)
Bedhead, Seth, The Brain (Totally Spies!)
Raye's Grandpa, Mr. Magic Pierrot, Biribiri (Sailor Moon)
Oranja (Sailor Moon Super S: Black Dream Hole)
Stay Puft Marshmallow Man (The Real Ghostbusters)
Max's Dad, Bartender (Beyblade)
Guardian of the Souls, Nanook (Redakai: Conquer the Kairu)
Ultron (The Avengers: United They Stand)
Ad blocker interference detected!
Wikia is a free-to-use site that makes money from advertising. We have a modified experience for viewers using ad blockers

Wikia is not accessible if you've made further modifications. Remove the custom ad blocker rule(s) and the page will load as expected.