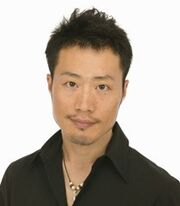 Eiji Takemoto is a Japanese Voice actor who voices Linehalt in Bakugan: Gundalian Invaders.
Other Notable Roles
Dirge (Beast Wars ll)
BanchouLeomon (Digimon Savers)
Marsmon (Digimon Xros Wars)
Iceringer (Bleach)
Headmaster, Warbandit (Medabots)
Ginkai (Medarot Damashii)
Harpy Valentine (Saint Seiya)
Kui (Dragon Ball Kai)
Kiichi Kuki, Renji Yanagi (The Prince of Tennis)
King Nosehair, Zeb Ziegler (Bobobo-bo Bo-bobo)
Dirge, Dirgegun (Beast Wars II)
Dirgegun (Transformers: Beast Wars II: The Movie)
Art Fire, J-Sevem, Dr. Akashi (Transformers: Robots in Disguise)
Tailgate (Transformers: Prime)
Ad blocker interference detected!
Wikia is a free-to-use site that makes money from advertising. We have a modified experience for viewers using ad blockers

Wikia is not accessible if you've made further modifications. Remove the custom ad blocker rule(s) and the page will load as expected.