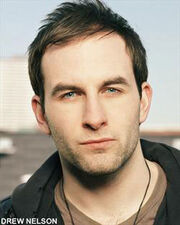 Drew Nelson was born and raised in Toronto. He was discovered acting in high school and hasn't looked back. Best known for the award winning Total Drama series' as the rebel outsider, Duncan, he's also appeared in numerous animated shows including, Death Note, 6Teen, Girlstuff Boystuff, Nana, and most recently voicing as Ben in Bakugan: Mechtanium Surge. Aside from animation, Drew also works in front of the camera.
Other Notable Roles
Duncan (Total Drama Series)
Kai (6Teen)
Ad blocker interference detected!
Wikia is a free-to-use site that makes money from advertising. We have a modified experience for viewers using ad blockers

Wikia is not accessible if you've made further modifications. Remove the custom ad blocker rule(s) and the page will load as expected.