For his Bakugan type, see Phantom Dharak.
Dharaknoid (ダラクノイド, Darakunoido) is one of the first two Bakugan created by Code Eve and the direct ancestor of Dharak. He is the Phantom Dharak, who battled his arch-enemy the original Dragonoid.
Information
Description
He is the great original Dharaknoid and the creator of Neathia and Gundalia. All of the Bakugan that live on Gundalia and Neathia are descended in some way from him. Dharak/Razenoid is his only direct descendent.
Anime
Bakugan: Gundalian Invaders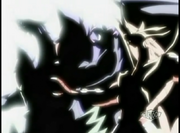 In Genesis, he was mentioned by Dragonoid Colossus as being one of the very first Bakugan created, the other being Genesis Dragonoid.
Physical Game
It was not released in the game, but its type of Bakugan, Phantom Dharak, was.
Ad blocker interference detected!
Wikia is a free-to-use site that makes money from advertising. We have a modified experience for viewers using ad blockers

Wikia is not accessible if you've made further modifications. Remove the custom ad blocker rule(s) and the page will load as expected.