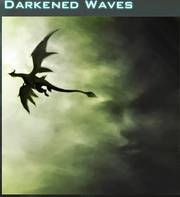 Darkened Waves was an Aquos and Darkus Multi-Attribute Fighting Style on Bakugan Dimensions.
Description
It has a lot of Aquos Defenses and Attacks that add attacks to the action bar. It is also full of powerful Darkus Gates and attacks. This Fighting Style is most effective against Aquos Brawlers. It is weak against Combos because it has no Combo Escapes. This Style's Cover Move is Growing Darkness.
Difficulty
Usage
Either one Aquos and two Darkus Bakugan or one Darkus and two Clear Bakugan are in the arsenal.
Moves
Gallery
Ad blocker interference detected!
Wikia is a free-to-use site that makes money from advertising. We have a modified experience for viewers using ad blockers

Wikia is not accessible if you've made further modifications. Remove the custom ad blocker rule(s) and the page will load as expected.