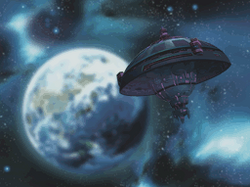 The Dark Star is Vector's planetoid, which floats over Earth. It appears in Bakugan: Battle Trainer.
Purpose
A month before the game starts, the planetoid trapped all the Bakugan in the Earth by releasing a kind of surge. On its surface, there are twenty-five gateways which go through the respective arenas where the battles between the Regulars and Dan in the game are issued.
Trivia
This ship resembles High Charity from the Halo series in both design and purpose.
The planetoid resembles Hurrix.
Ad blocker interference detected!
Wikia is a free-to-use site that makes money from advertising. We have a modified experience for viewers using ad blockers

Wikia is not accessible if you've made further modifications. Remove the custom ad blocker rule(s) and the page will load as expected.