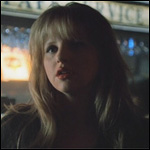 Caroly Larson is a Canadian Voice actress who is known for voicing Shiori Kazami & Tricloid in Bakugan Battle Brawlers. She was also the second Voice Actress for Nene; another character in Bakugan Battle Brawlers. She then voiced Elfin in Bakugan Battle Brawlers New Vestroia. She also voice Tron Bonne in the Megaman Legends 1 and 2 and The Misadventures of Tron Bonne.
Other Notable Roles
Shelleby (Monster Force)
Miss Spider (Miss Spider's Sunny Patch Friends)
Venus (Spider Riders)
Tron Bonne (Megaman Legends series)
Hikaru's Mother (Beyblade: Metal Fusion)
Ad blocker interference detected!
Wikia is a free-to-use site that makes money from advertising. We have a modified experience for viewers using ad blockers

Wikia is not accessible if you've made further modifications. Remove the custom ad blocker rule(s) and the page will load as expected.