Carlsnaut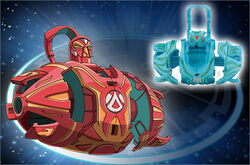 Carlsnaut is an oval-shaped Bakugan Trap that resembles a jet turbine. People were anticipating it to appear in the New Vestroia anime, but it wasn't seen. Its head looks similar to Hylash's.
Information
Description
Carlsnaut wields sharp, twirling blades and can create water balls to destroy his opponents.
Game
Carlsnaut has been released in all six attributes.