Carlsnaut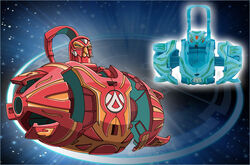 Carlsnaut is an oval-shaped Bakugan Trap that resembles a jet turbine. Its head looks similar to Hylash's.
Information
Description
Carlsnaut wields sharp, twirling blades and can create water balls to destroy his opponents.
Game
Carlsnaut has been released in all six attributes.
Ad blocker interference detected!
Wikia is a free-to-use site that makes money from advertising. We have a modified experience for viewers using ad blockers

Wikia is not accessible if you've made further modifications. Remove the custom ad blocker rule(s) and the page will load as expected.