Body and Soul
was a
Haos
and
Subterra
Multi-
Attribute
Fighting Style
on
Bakugan Dimensions
. It required two Subterra
Bakugan
and one Haos Bakugan in your team.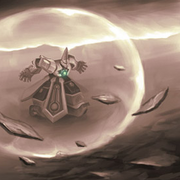 Difficulty
Description
This Subterra and Haos Multi-Attribute Fighting Style, rewards patience. It has excellent defenses and can keep you from taking damage while your opponent attacks. When your opponent is down this Fighting Style gives you opportunities to find an opening in your opponent's defense. And because of the Strength and style of this Fighting Style, once you find that opening, one powerful strike can be enough to put you in the lead for a good win.
This Style's Cover Move is Earthen Resilience.
Moves
Gallery
Ability Card Images
Ad blocker interference detected!
Wikia is a free-to-use site that makes money from advertising. We have a modified experience for viewers using ad blockers

Wikia is not accessible if you've made further modifications. Remove the custom ad blocker rule(s) and the page will load as expected.