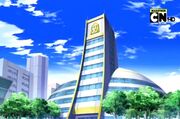 The Battle Brawlers Headquarters is the base of the Battle Brawlers in Bakugan: Mechtanium Surge Arc 2.
Information
The Battle Brawlers Headquarters is one of the main buildings of Bakugan City. There is a computer satellite for the locator and the Battle Suit transporters whenever the Brawlers need a helping hand. It has bedrooms for Dan, Shun, and Marucho to sleep.
Anime
It appeared many times during the entire Arc 2, except on episodes 30 and 41 to 42.
Gallery
Ad blocker interference detected!
Wikia is a free-to-use site that makes money from advertising. We have a modified experience for viewers using ad blockers

Wikia is not accessible if you've made further modifications. Remove the custom ad blocker rule(s) and the page will load as expected.